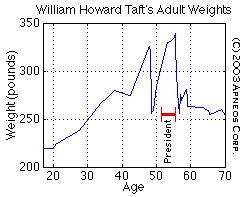 At age 48 Taft weighed over 320 pounds. In December 1905 he began a diet prescribed for him by a London physician, Dr. Nathaniel Yorke-Davies. Within 6 months Taft had lost 65 pounds -- about 20% of his body mass. He was delighted, except for having to buy all new clothes!

Dr. Yorke-Davies then prescribed a "stationary diet" to keep Taft at the reduced weight. We reproduce both the reducing diet and the stationary diet Dr. Yorke-Davies prescribed.

The graph below shows Taft's progress on the Yorke-Davies reducing diet. Each circle is a known weight. The solid line connects known weights.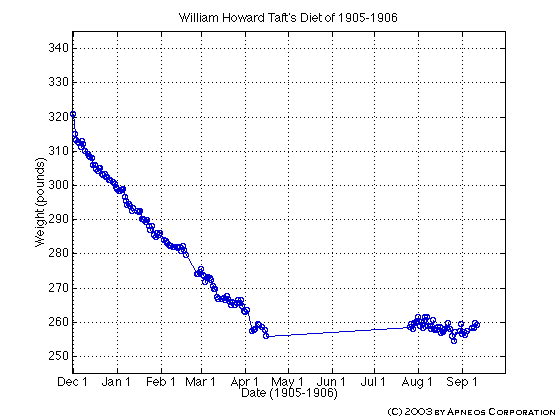 Taft became fantastically busy. He was not only Secretary of War, but was effectively the Secretary of State, too. When President Theodore Roosevelt left town, Taft was effectively President. Taft then began his own run for the Presidency.
Two years after starting the Yorke-Davies diet, Taft weighed 297 pounds. He weighed over 300 pounds during his entire Presidency. His maximum weight was 340 pounds, just before he left the White House.
Taft left the White House in March 1913. He was 55 years old. He then started a diet under the supervision of Dr. George Blumer of Yale University. This 1913-1914 diet appears to have been largely the same as his 1905-1906 reducing diet.
Again, Taft successfully lost weight, as shown below. This time, however, he kept the weight off, more or less, for the rest of his life.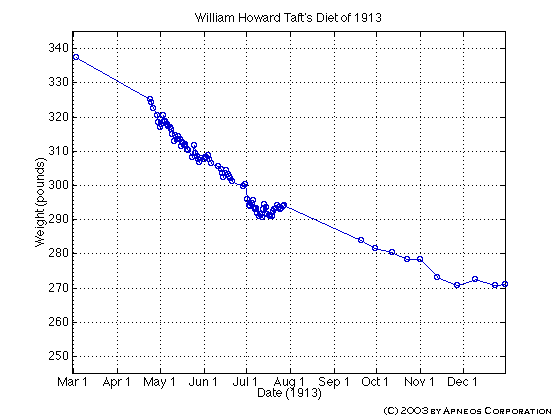 Taft's successful weight loss was front page news in the New York Times on December 12, 1913.